By Sally Lashmar, Owhango Alive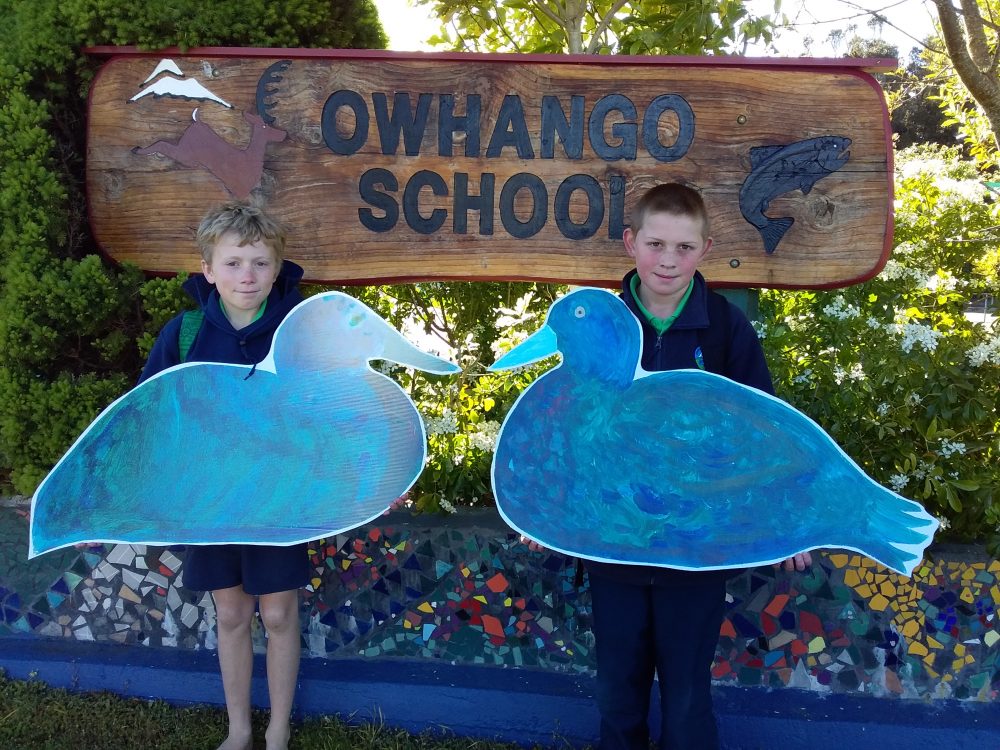 A few weeks ago I received a text saying that I had a "present" in my garage.  This was not unusual, as I am part of the local predator trapping/weed control volunteer group, "Owhango Alive", in the Central North Island.  I had discovered a variety of offerings in the garage (HQ) over the years – things like dead birds, stoat and weasel tails (used for a competition run by Taupo Hunting and Fishing) monster rats and so on – you get the picture I'm sure.
So you can appreciate my surprise and delight when I walked into the garage to be met by two beautiful cut out cardboard paintings of Whio (blue ducks)! They had been created by Owhango Primary School students, Nairin Higgie (10) and Jack Owen (11), as part of a school project on Whio.
Our village of Owhango is on the edge of the Ohinetonga Scenic Reserve, with another boundary being the Whakapapa River, which is home to a healthy population of Whio.
Owhango Alive celebrates World Rivers Day at the end of September each year.  This year nearly 40 of us gathered at the Whakapapa Bridge and headed downstream to an area where we installed a viewing bench by the walking track that takes you along the banks of the Whakapapa River.  We also planted 50 native trees, headed back to the Owhango Domain and then were thrilled to listen to a presentation on Whio by Nairin and Jack.  It is great to have local students involved with our work.
Nairin and Jack have presented Owhango Alive with their Whio, to keep and use as promotional "props" at various local events.
Thanks so much lads!  You are certainly helping us protect our own back yard.
For more info on Owhango Alive's work, or to sponsor a trap, receive our newsletter etc, we can be contacted on owhangoalive@yahoo.com
Here is the info Nairin and Jack collected for their project:
NAIRIN… Hi everyone, did you know March is Whio Awareness Month?  Here are some interesting facts about Whio.
JACK…      Whio have a top lip.  It stops their bill wearing away on rocks.
NAIRIN….  There are less than three thousand left.
JACK…       Whio is the Māori name for blue duck.
NAIRIN….   Females are smaller than the males
JACK…       Whio chicks can swim in rough water by the time they hatch
NAIRIN…     Whio are one of the most endangered birds in New Zealand
JACK…        Whio have been seen in the rough waters of our Whakapapa River.
NAIRIN…      Thank you, save the Whio!