Polly Pekapeka (our Manu | Bird of the Year 2021) is looking for adventure, so she's off visiting KCCers around Aotearoa – and beyond. Follow all her adventures out and about in nature HERE.
In May 2022, Polly went to stay with Odette (age 10) in Auckland. Here's what they got up to together…
---
Polly Pekapeka visits the special birds of the Manukau Harbour
By Odette
When Polly arrived at our house, I knew exactly where to take her. To the Foreshore Bird Sanctuary of course!
Through the winding gravel track of Ambury Farm, nestled between an uncountable amount of trees, is the bird hide, an open, small wooden building, with little windows to see the birds from without disturbing them. It's winter at the moment, so Polly got to meet her fellow Aotearoa Bird Of The Year contestants such as the wrybill plover and banded dotterel from the South Island. As well as the Northern NZ dotterel, pied stilts, caspian terns, royal spoonbills and endangered black billed gulls. Polly said she would like to come back in the summertime, so she can meet the migrants from the northern hemisphere including the kuaka | bar-tailed godwits, who travel for 8 days on an amazing 12,000km trip from Alaska! And the red knots and ruddy turnstones from Siberia! Part of the foreshore is a strip of white sand where the birds come to rest while the tide is in, but when it's out, they go digging, pecking, and scooping in the shallow tidal flats for food (the whole reason the shorebirds adore Manukau Harbour in the first place).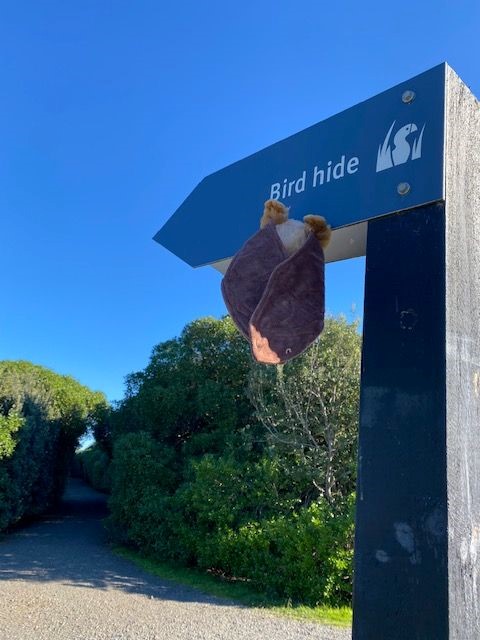 Once Polly had said "Kia ora" to her many friends, and taken some photos, we crossed the bridge from the bird hide to have a nice sit down on one of the blue benches made out of recycled plastic reclaimed from the ocean. Polly was getting a bit tired, so she decided to have a sleep! Can't blame her though, she is nocturnal after all.
After her sleep, Polly wanted to see more of her feathered friends so we headed to Kiwi Esplanade so she could meet the combined flock of 5,000 variable and pied oystercatchers.
I certainly enjoyed showing Polly the special birds of Mangere Bridge and the Manukau Harbour, and I hope she enjoyed it too!
---
So many manu | birds! What a fun adventure. Thanks Odette, and great writing 🙂