Membership Options
New Member
When you sign up for the first time, you'll get a Digital Welcome Pack by email with all your important information and links to some recent issues of Wild Things, etc. You'll then get your first new Wild Things issue in the post on our next printing (Feb, May, August, November).
Want your KCCer to get some goodies in the mail too? Why not purchase a KCC Gift Pack instead?
Our base membership is just $24 a year. If you want to receive more than 1 copy of the magazine each quarter, you can add additional magazines (up to 5 copies per quarter) onto your membership. From 1 May 2023, it will be $10 per extra copy – eg. if you wanted three copies of the magazine each quarter, the membership would be $44/year. N.B. This offer is only for standard memberships and not gift pack memberships.
Renewing Member
When you renew, you'll get a Digital Renewal Pack, plus some goodies in the mail too. You'll continue to get Wild Things magazines as per the printing schedule.
Want your KCCer to get extra goodies? Why not purchase a KCC Gift Pack instead?
Want your renewal to just happen automatically? Set up an annual renewal payment for next 2,3,4 or 5 years on joining or renewing.
---
Gift Pack Membership options – $30
We have two gift pack options – one for new members and one for renewing members.
Both include the $24 base membership (1 Wild Things magazine in the post 4 times a year, newsletters, and ability to attend KCC events around the country) but also receive a physical gift pack in the post.
For more information and to check out the goodies –

click here

.
Buying as a birthday gift? Maybe consider a gift membership voucher if you're buying last minute ⬇️
---
We also now have the option to purchase a membership voucher as a gift through the Forest & Bird Shop –

click here
You receive a digital certificate/voucher that you can gift by email or print out, and then the caregiver can sign up with all the details later on. It is a $30 membership, so the physical gift pack of goodies will be posted once the caregiver redeems the voucher and the membership is set up.
If you have been gifted a membership voucher – the link to redeem it is embedded in the certificate and is also in the cover email. If you have any issues redeeming the voucher, please contact the membership team on membership@forestandbird.org.nz or 0800 200 064.
---
Schools and Groups can now purchase 1,2,3,4 or 5 magazine options, as well as our special bulk option of 30 copies of the magazine each quarter for just $100/year!
Want to change your number of magazines to one of these new options? Renew online, or get in touch with us at kcc@forestandbird.org.nz to change your renewal notice letter.
---
Want to give a gift to a friend or family member overseas? The current cost for this is $40 a year. This includes 1 copy of Wild Things magazine per quarter (4 per year).
Latest posts
Categories
Become a KCC Reporter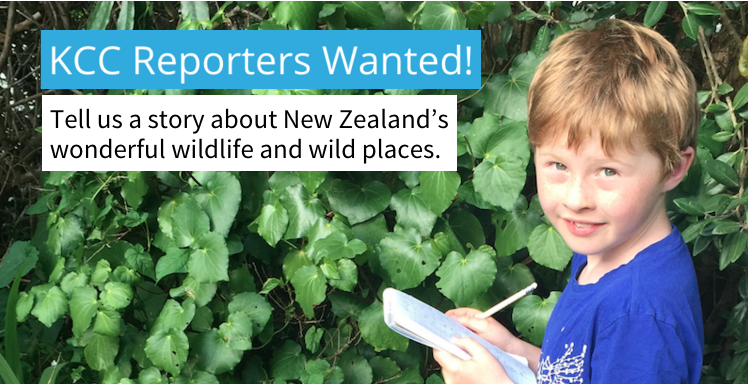 We're looking for talented young writers to become KCC reporters and share their love of nature with kids across New Zealand. Think you have what it takes?
Learn how to submit a story.
Search