A night of bat detecting and bush walking by Kiwi Conservation Club Waitakere was a huge success according to Lucas Glamuzina, age 8, who has now declared himself a dedicated bat fan.
"Last week's bat walk was really cool. I now really love bats. I was amazed when we heard and saw the bats flying."
The outing was led by Auckland's very own "batman", Ben Paris, who took the KCC Waitakere kids through Cascades Kauri Park. This stunning regional park is home to Forest & Bird's open air sanctuary 'Ark in the Park' and a well-known spot for long-tailed bats.
Ben invited KCC kids to discover the mysteries of bats by searching the sky at dusk with bat detectors. According to Ben, luck is the name of the game with this, and good eyes a must as bats are reclusive creatures and their quick flying antics can sometimes make them a challenge to spot.
"Luckily, after years of park ranger observations at Ark in the Park, we know that the bats come out for their first feed 15 minutes after official sunset," says Ben. "The bat detectors are usually the first to react to the bats showing up. They pick up the bats echolocation calls (above our own hearing range) and convert them into a series of clicks and buzzes we can hear.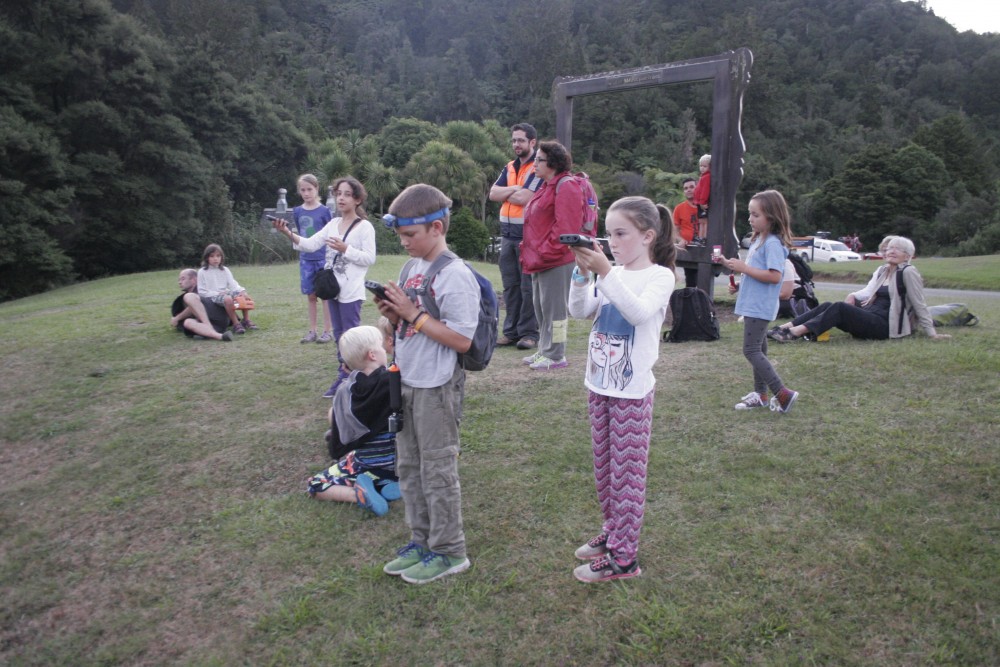 "Once the bat detectors start going off, we can usually spot the batman-like silhouette of the bat's erratic flying above the treeline against the twilight sky. They'll be out at that spot for 10-15 minutes eating many flying insects like moths, mosquitos and midges, before going back to their roost for a rest, or flying further afield using the stream as a feeding corridor.
We believe the same bats from Ark are the ones detected further west at Te Henga, and east towards the city at Swanson, so they can fly pretty far!"
After spotting heaps of bats, the KCC group then headed off along a bush track and searched for other secretive creatures that inhabit the forest and streams at night.
According to Lucas, "The night walk was stupendous – seeing a cave weta, spiders, glow worms, crayfish and loads more. It was spooky and cool when the morepork flew over us."
Does this sound like something you would like to do? Bats like to be near waterways, grassy clearings, and big old trees for roosting. If you have any of these, you may be in luck for some bat spotting!
Ben works in the biodiversity team of Auckland Council and they would love to have more KCC members out there with bat detectors checking their own backyards, schools or parks for long-tailed bat activity. Auckland KCC coordinators or members can contact biodiversity@aucklandcouncil.govt.nz for more info.
Kiwi Conservation Club is our club for kids who love wildlife & wild places. Join today & get involved with your local branch.
JOIN KCC