Polly Pekapeka (our Manu | Bird of the Year 2021) is looking for adventure, so she's off visiting KCCers around Aotearoa – and beyond. Follow all her adventures out and about in nature HERE.
In July 2022, Polly went to stay with Olive (age 7) and Ruby (age 9) and Sage (age 4) in Tauranga. Here's what they got up to together…
Polly's Day at Oropi School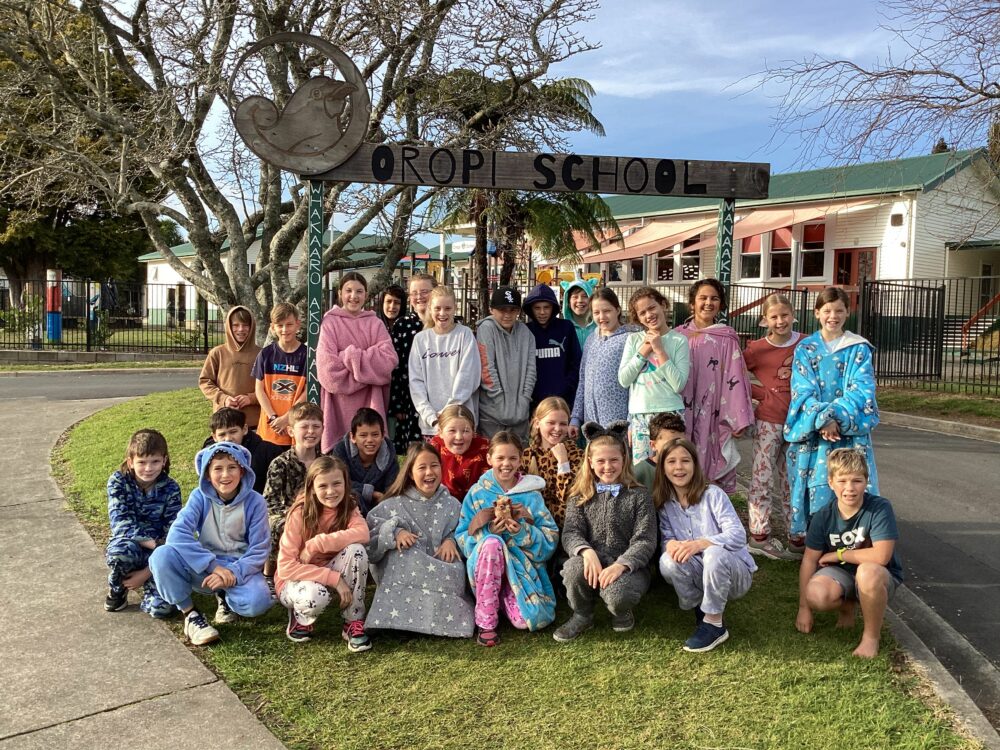 My class were very happy to learn that Polly Pekapeka could join in on our learning for the day especially as we had an extra special day planned for the last day of the term, which included wearing our PJs and watching the movie James and the Giant Peach. We started by showing Polly around our school. We showed her some of the classrooms, as well as our kōkako vegetable garden where she met our garden to table specialist and one of our guinea pigs. We had fun playing on the playground with her. Polly loved the flying fox the most! Polly sure made our last day of term two memorable!
Polly's trip to McLarens Falls and Marshalls Animal Farm
On Thursday, we took Polly to visit Marshalls Animal Farm. She saw deer, horses, guinea pigs, rabbits, and lambs – but to name a few. We enjoyed a picnic and then showed Polly the famous McLarens Falls, which also has a beautiful lake walk with large trees surrounding it.
A wet and stormy fun-filled day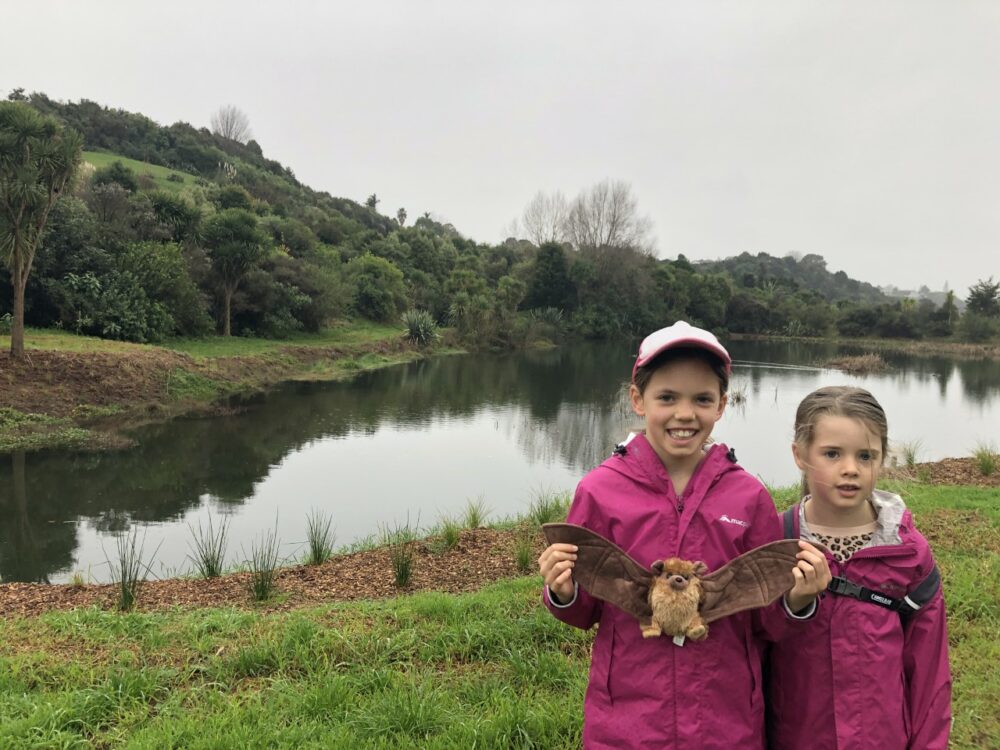 It was a very wet and stormy winter's day, but we still managed to give Polly lots of exciting things to do. We started with a walk around the local reserves where we saw lots of pūkeko, ducks, and pīwakawaka and managed to dodge some of the rain. To hide from the rain, we went to a cafe and ordered Polly a hot chocolate to warm up after a chilly morning's walk. Then we made our way home and while we waited for the rain to stop, we made rock cakes and hokey pokey biscuits. Polly loved helping stir the mix. During the afternoon the rain subsided so we took Polly on a bike ride to one of our favourite playgrounds, we made sure she was nice and safe and secured a little helmet on her head! Another fun day! 
Polly rides some of the Hauraki Rail Trail

Today, on a misty winter's morning, we headed out to ride some of the Hauraki Rail Trail. The Hauraki Rail Trail is a beautiful cycling track that covers 197km from Kaiaua (near Thames) to Matamata.
The morning started out cold, so our fingers and toes were freezing! Luckily, the sun came out towards the end, and we warmed up! During our trip we cycled 27km and stopped at the Firth Tower in Matamata, this was originally built to overlook the countryside in 1882, it is now a museum. We had a great time riding this track and it is our goal to cycle the whole trail piece by piece! To finish off a cold morning of riding we went to the Opal springs hot pool for a lovely soak. We were so happy to be able to begin our Hauraki Rail Trail journey with Polly!
Polly's hike up Mount Maunganui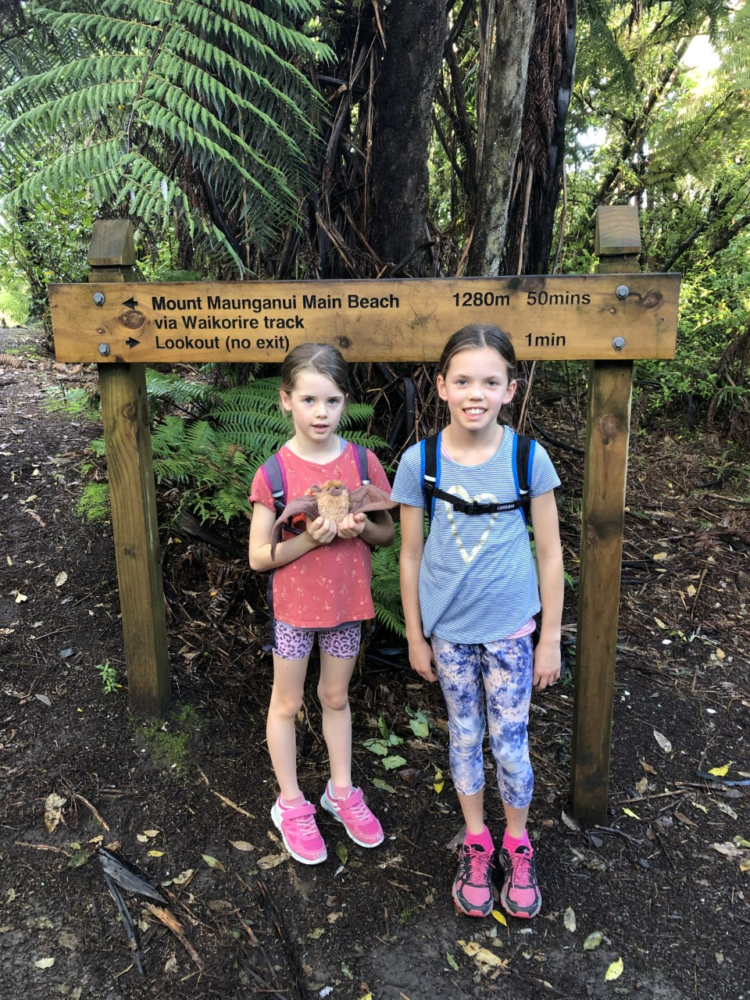 One of the highlights of where we live is being able to hike up Mount Maunganui. We decided this would be a perfect place to take Polly. We walked right up to the top where the new Atea-a-Rangi star compass has been installed. The views are magnificent. After this we walked around the base of Mount Maunganui keeping an eye out for Oscar the resident seal. Unfortunately, he wasn't sunbathing today, so we missed seeing him.
Of course, you can't go to Mount Maunganui without having one of the world-famous Copenhagen ice creams. We enjoyed a delicious ice cream each, and even Polly tried some. To end our day, we had a picnic on the beach and a play in the water. Another fun trip with Polly!
---
What a lot of great adventures for Polly! Thanks Olive and Ruby 🦇