Ben from Auckland sent in this wonderful story about a little blue penguin named Fred who goes on an adventure in the ocean. We loved it so much we asked Giselle Clarkson to turn it into a comic, which you can read in the latest issue of our Wild Things Magazine. Read all three chapters of Ben's awesome story below!
Chapter 1
Just like every other day, Fred the Little Blue Penguin was enjoying his morning swim and catching up with his noisey mate Bob the Bossiest most Boisterous Black Backed Gull in the entire Pacific Ocean. Bob told Fred where to catch the most smelliest, juiciest sprats in all of Aotearoa.
Fred was having a whale of a time, which is odd because Fred doesn't really like whales, they scare away all the sprats. Fred was surfing up and down the waves about to grab a delicious smelly sprat when suddenly his beak snapped back and he came to a massive halt.
What was that? Was it Bob playing around or a big barracuda, surely it isn't Macaroni Cheese the great white pointer prowling the pacific thought Fred.
Wait a minute, there is no pain. Damn it, those wasteful humans and their pesky plastic bags.
Fred was trapped!
He tried to wriggle clear. He tried for ages and ages but nothing changed. This meant trouble.
He was stuck like an oyster on a rock. All he could do now was float on his back and try to make it back to the shore.

Fred was totally puffed by the time he made it to shore. What a predicament. Fred was having a bad day. What he didn't know was it was about to get worse.
Just then Fred heard barking and it was getting closer. Fred had to think faster than Jonah Lomu could run.
There was no time to get back to the sea, but there was no time to waste, Fred had to seek a hide out. He spied a gap in the rocks and went for it.

It was dark in the cave but he just kept waddling until he couldn't hear the dog barking any more. Fred could see a light in the distance so he waddled on some more.
When he got there he collapsed in a heap and fell asleep completely lonely and exhausted.
Chapter 2
It was a day like every other day. Poppa woke up, tuned the radio to his ancient music. He then set about making breakfast. Molasses on 4 bits of toast and gobbled them up (ewh yuck, disgusting).
Just like every other day he said cheerio to Nana and strode out the door for his morning walk.
He raced past Mr Campbell who said good morning. He raced past Mrs Sietkiewicz who also said good morning.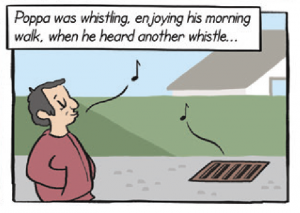 Next, he passed Mrs Rolle and her dog called Ben who also said good morning, well not Ben because he's a dog, He just went sniff sniff sniff and run off after Mrs Rolle. Poppa was in an ecstatically happy mood and began to whistle.
He was part way through one of his ancient songs when he heard a quiet whistle in the distance. He stopped. He heard it again. Using his expert Poppa tracking skills he followed the sound to a stormwater drain in the road. He looked inside.
He couldn't believe his eyes when he saw Fred in the hole at the bottom all tangled in plastic.
"Hello little fella, how did ya get down there?" said Poppa as he bent down to lift up the storm water grill. The grill was stuck. The average Poppa would have no chance, but not Super Poppa Penguin Rescuer. He lifted the grill in one quick motion. He then took of his singlet and wrapped up Fred and pulled him from certain doom.
By this time a huge crowd had gathered, cheering and clapping. Well, a few people anyway and Ben Mrs Rolle's dog was there as well.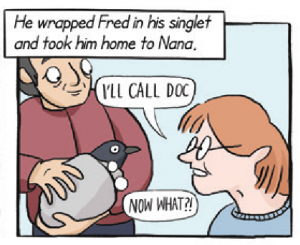 Poppa took Fred home and showed Nana.
"What should we do now?" asked Poppa.
Nana always has the answers and said that it was best to call the DOC office they would know what to do.
Nana called DOC where a nice lady called Mrs Butler answered. She new everything there was to know about penguins. She told Nana to remove the plastic bag carefully and check for cuts. If there are no cuts you should release him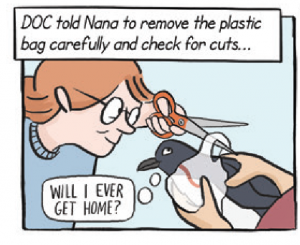 back at the beach said Mrs Butler.
Poppa quickly and carefully removed the bag and checked for cuts.
"All clear," said Poppa "although he does seem a little bit weirded out by the day's events."
Super Poppa was concerned.
Fred was way too exhausted to be released so Super Poppa ran the bath and placed Fred right in the middle. Fred was quiet at the start then he began splashing about and whistling a tune.
Just then, Super Nana Penguin Feeder burst through the door with tins and tins of sardines she had bought from the local supermarket because the dairy was way too dear.
Fred said, 'Yippee,' and gobbled them up as fast as Poppa eating molasses toast.
Super Poppa and Super Nana both agreed it was time to let the little fella go. They placed him in a box and drove him to the ocean.
Chapter 3
Fred could not believe his eyes when he saw the ocean. These humans aren't so bad after all thought Fred. Fred tried to say thank you but I don't think the humans could understand him.
The ocean felt so nice and calm. He tried again to say thank you and goodbye and although they couldn't speak the same language I'm sure both Poppa and Nana knew what he was saying as they were waved their big flippers goodbye to Fred.
Bob the Bossiest most Boisterous Black Backed Gull in all of the Pacific Ocean was not going to believe what an adventure he had had thought Fred, nor will all of my other mates.
He was very thankful to be able to go back to sea to tell the story to all his sea buddies.
About the Author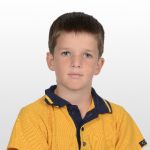 Ben goes to Cornwall Park District School in Auckland.
He's a keen Blues supporter, and enjoys camping with his family and road trips in the old van with his Dad.
Do you want to become a KCC Reporter? Sign up here!