Eight year old KCC member Oscar  tells us about his close up encounters with some pretty unique wildlife.
I went to BioBlitz at Pukaha Mount Bruce.
I found the biggest peripatus that the Department of Conservation's threatened species ambassador (Nic Toki) had ever seen. It squirted her!!!
A few weeks later I went to Granny and Grandpa's, we went on a big walk together in a forest full of trees.
When we got back to Granny and Grandpa's house we got to see someone who owns geckos named Mike Kean.
I got to hold a green one.  It was cute but not soft.  Their skin was rough.
Then after a few weeks we found out David Attenborough my favorite documentary maker is turning 90.  And that's now!  I love David Attenborough because he is just like me.  He loves nature (including hippos).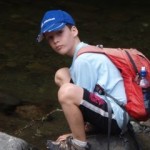 Oscar lives in Palmerston North.  He loves going on bush walks and two of his favourite birds are the Kakapo and the Kakariki.  When Oscar grows up he wants work for WildBase or KCC.
Find out how you can become a KCC Reporter – just like Oscar!