In the April 2017 school holidays, Alexis (9 years), and her sister Emily (11 years), travelled to Borneo with their mum and dad. They love animals, and wanted to have a wildlife adventure while learning more about threats to this special river habitat, such as deforestation.
This is a story Alexis wrote about one evening's boat trip on the Kinabatangan River in Borneo.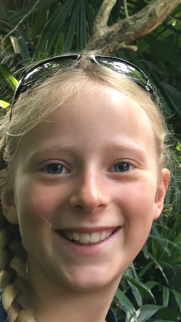 "It's a long way and we've got a slow boat," said Bryant.
As I clambered into the boat I wondered really how long it would be. "We can't stop to look at anything because we have to get back before dark," said Bryant, as he climbed in. "What about an orangutan?" someone asked. "Ok, we'll only stop if we see an orangutan."
The motor chugged as we started up the Kinabatangan River. Soon we saw some macaques leaping gracefully from tree to tree. An hour or so later someone yelled, "Orangutan!" Sure enough a beautiful ginger ape was sitting in a tree.
It wasn't long till I noticed it had a baby! Soon, the baby jumped off its mum's back and ate a leaf.
About 20 minutes later, someone in another boat gave us a thumbs up and pointed and waved, and after that every so often someone would point and wave. Another hour passed, and someone signalled three more bends.      
There was a roar of thunder, and a flash of lightning, and I wondered when the rain would start, but it didn't. Suddenly, a big black and white bird appeared. I instantly identified it by its vivid orange horn above its head. A rhinoceros hornbill! Approximately half an hour later we saw an… elephant!
There was a whole herd of Borneo's pygmy elephants. As we came closer, I counted about 20 adults, and approximately 7 babies. Then, suddenly, more lightning struck!
As we headed back to the lodge, Emily worked out there was just enough time to count to nine between each strike of lightning. The lightning looked pretty against the sunset, although I nervously remembered Bryant's words, "We have to get back before dark".
Suddenly some bats swooped above our heads. "Quick look at the flying foxes," I whispered hurriedly. I soon began to grow tired. It was cold, and way past my bedtime.
About an hour or so later, when I was dozing, someone called, "Look at that bird!" I opened my eyes to see, but l was blinded by a bright glare. l looked away, confused. Suddenly, I saw the familiar paw print on the back of the boat. We were safe!
I was relieved when I climbed onto the 70 horse power boat, and it was so fast we got back quickly, and dinner was still hot.