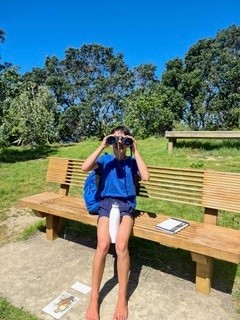 On Sunday 25th of September, me and Mum (Kiri) went to Tiritiri Matangi Bird Sanctuary Island in the Hauraki Gulf. First, we went on the guided tour all the way up to the visitor centre. On our way up we saw heaps of tūī and one of them was having a bath in the water trough. There were also lots of kererū, and we also saw a ruru asleep in its tree with its head tucked under its wing. We saw about 6 kākāriki.  There was a bird feeder set up for hihi (stitchbirds) and korimako (bellbirds).  It was swarming with them and the sound was beautiful.
After the guided tour was over, we were able to go on different walks all around the island. We kept seeing tīeke (saddlebacks) hopping around in the shrubs – a nice change from blackbirds back at home! Then we heard a soft, almost water-like sound.  We kept walking quietly along the path until we saw them: perched high in the tree, two beautiful kōkako! They were about the size of a small kererū but grey, with blue wattles.  We stared at them for ages. One was picking up twigs, probably for building a nest.  The other was calling to it and feeding from flowers in the Pittosporum tree. We thought ourselves very lucky to have seen such a rare New Zealand bird.
We kept walking along the path, chattering to each other about what we had seen.  Then, we heard the sound again…an almost water-like noise.  We glanced up at a tree to find ourselves face to face with another 2 kōkako! We were the luckiest people in the world! We kept walking, then saw another kōkako hopping around on the path. We sat down about 5 m away from it.  It hopped around for a while and then flew off.  How lucky are we?!
We walked all the way down to the beach.  It was a very hot day so I went for a swim.  The water felt cool and fresh. After my swim, me and Mum went for a walk around the rocks and I looked into a cave and saw a blue penguin! It opened its eyes and looked at us. We didn't take a photo because we didn't want to scare it.  On our walk back to the ferry, we had a look in the penguin nesting boxes.  The penguins inside were nuzzling around the ground, fluffing themselves up.  While we waited for the ferry to come back we built a long line of stones all the way to the water. By the end of the day we had seen: kōkako, tīeke (saddlebacks), korimako (bellbirds), hihi (stitchbirds), ruru, pīwakawaka (fantail), pōpokatea (whitehead), pūkeko, tūī, kererū, kākāriki (red crowned parakeet), kororā (blue penguin), sparrows and oyster catchers.
Goodbye Tiritiri Matangi. Thank you for having us!