Simple Plant Experiment
Written in collaboration with Babysits.
With this simple plant experiment, you can get a little plant growing with just a dried bean! It's a great way to get in touch with nature and watch your little bean grow.
You can even make gardening a daily or weekly activity, checking in and measuring how much your plant is growing to create lessons on healthy habits and sustainability. At the end, you can enjoy some beans from the plant you grew yourself!

Here's what you'll need:
Plastic zipper bag
Paper towel
2 – 3 Lima beans (or any dried bean seed)
Tape
Water
A window with direct sunlight
Time
Instructions:
Open the plastic zipper bag
Take a paper towel and wet the whole piece with water
Fold the paper towel so it is three times as big as the bean
Put the wet paper towel in the center of the bottom of the zipper bag
Take one bean and try to put on the front of the paper towel and another bean on the other side of the paper towel in the bag
Tape the bag to a window that receives a lot of direct sunlight
Leave for a few days and check to see what is happening
If your seed isn't sprouting after 5 days, it may have spoiled so try with another bean seed
After 8 days, it should be ready to pot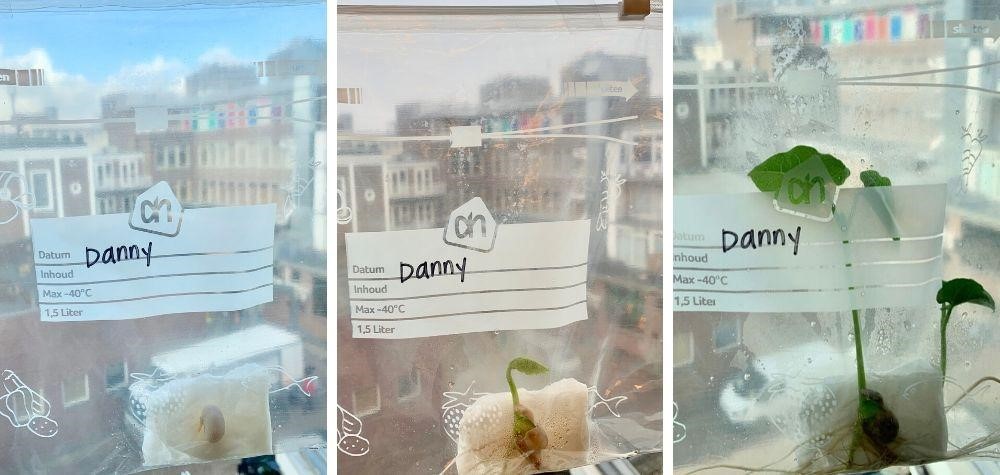 The best part of this project is that you can see the bean sprout from its seed shell and grow into a big leafy plant. You can see every step of growth in the clear bag. For even more fun, try drawing the plant every day, this way you can really focus on visualising the changes! Good luck and happy growing!