Polly Pekapeka (our Manu | Bird of the Year 2021) is looking for adventure, so she's off visiting KCCers around Aotearoa – and beyond. Follow all her adventures out and about in nature HERE.
In September 2022, Polly went to stay with Freddie (age 6) and Evie (age 5) in Mangaweka. Here's what they got up to together…
We were so excited when Polly arrived in the post, we had to introduce her to all our other toys and decide what adventures we were going to have.  She got here on Monday, so I brought her to school with me and we had a little bat area where we could learn more about the native bats of Aotearoa New Zealand.  
Once it was the weekend, we took Polly Pekapeka down to our local awa – the mighty Rangitīkei.  We got to show Polly the new Mangaweka Bridge and the Pou Whenua that was unveiled to bless the new bridge.  We also walked across the old historic bridge – what was the only cantilever road bridge left in New Zealand.  We went down to the river to play and picked up some rubbish that we found so we could be kaitiaki of our special places.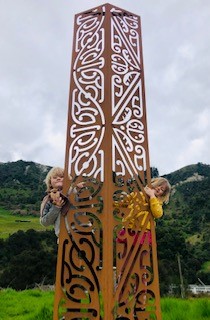 On Sunday we took Polly Pekapeka on a drive to the Whanganui Museum.  We saw some really cool things like moa bones, a giant whale skeleton, and a huge waka.  Afterwards, we walked around Lake Virginia and saw some ducklings.  
For our last day with Polly, we went down to our local ngahere where my little sister had her graduation ceremony from Playcentre.  She planted an akeake tree next to where I planted mine when I graduated, so we can always go back and see how much they have grown.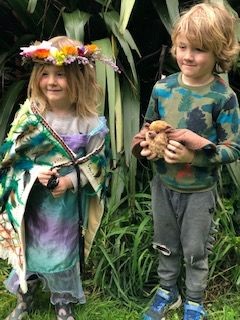 Then we sent Polly off onto her next adventure – thanks for coming to visit.  
---
Brilliant adventure Freddie and Evie!