We were really excited to get this picture of KCC member Matthew receiving a giant copy of his Whio | Blue duck Trading Card from the team from ZEALANDIA last week.
Matthew's card was one of 12 selected in the Design a Card competition in 2016 – and now is part of the Wetland and Alpine set. Another KCC member, Rosie, had her card selected for this game set too: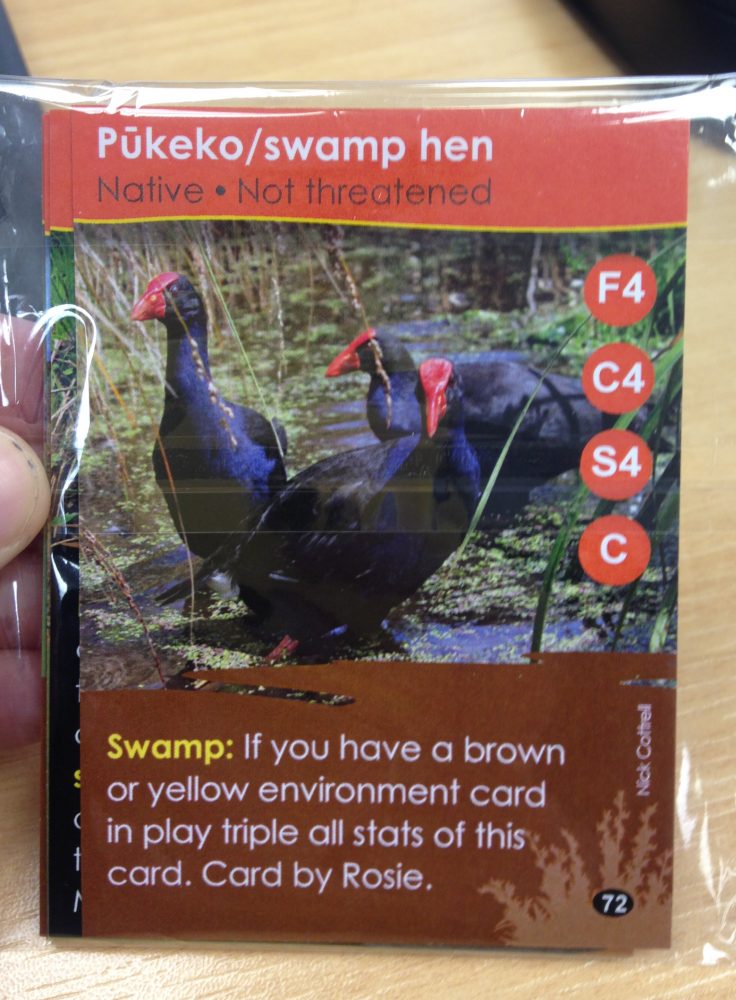 Rawe! (Awesome!)
To complete the ZEALANDIA Trading Card game, the team will be releasing one final set of cards. There will be a massive 64 cards in this set so to bring the total number of card in the game to 200 cards! The Design a Card competition 2017 is now open…
So what makes a good card design?
Your entry might need to include all the the following details: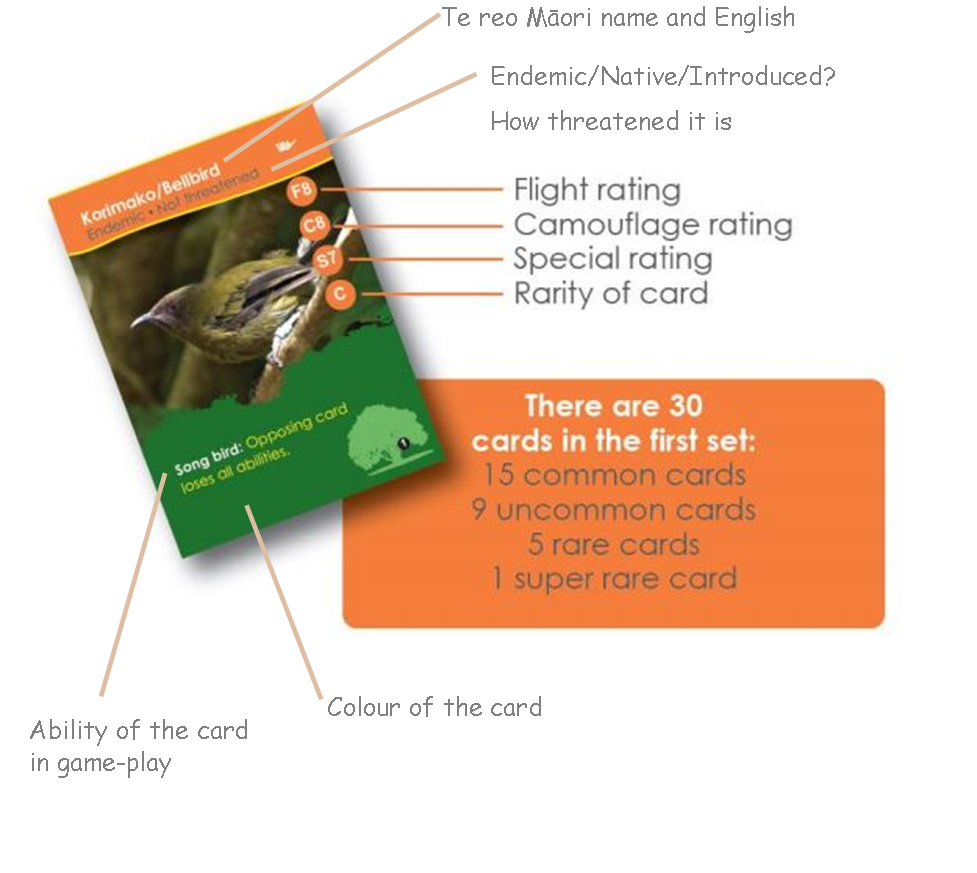 Helpful tips
– Each bird/bat card has three ability ratings that range from 0 to 9, 0 being the lowest and 9 being the highest. The uppermost ability rating is flight (F) followed by camouflage (C) and special (S). The numbers reflect the bird's abilities for each category. 'Special' indicates how unique or special that bird is to Aotearoa New Zealand. Cards for places, plants, events and pests don't need these stats.
– Only put in conservation status info if your card is a bird or plant
– All cards need a name and a rarity status. C stand for common, U for uncommon, R for Rare, VR for Very rare, SR for Super rare and L for limited. Most cards will be common – and that is good too. If your bird, plant, pest, event or place is more special (i.e. harder to find and more endangered) then you could suggest it have a higher rarity rating.
– The best cards have abilities that match in some way to that bird/bat, plant, event, pest, or place. For example, if I chose to do a card on Wild ginger its ability might be a) to severely weaken any Northland place (Wild Ginger is a huge best to forests and parks in this area), or b) to weaken all native/endemic plants in play (Wild ginger makes it had for other seedlings to grow).
– There are 9 different colours of cards:
Green: Forest birds and environments
Black: Nocturnal birds and environments
Yellow: Introduced birds and environments
Gold: Extinct birds and environments
Sand coloured: Coastal birds and environments
Light green: Alpine birds and environments
Blue: Sea birds and environments
Brown: Wetland birds and environments
Silver: Migrant birds and environments
Check out these videos about how to read the cards, and play the game for more support:
Get creative!
This is a general set, so the team is looking for cards featuring all sorts. Get thinking about:
seabirds, migratory birds and bats (e.g. tawaki (Fiordland crested penguin), long-tailed bat, sparrow)
extinct birds, places and plants (e.g. Adam's mistletoe, bush wren, pre-human Aotearoa)
plants (e.g. kauri, wild ginger, rimu)
events and pests (these are new cards – work like environment cards but can change each round – e.g. forest fire, beech mast, possum, beach clean-up).
Send in your ideas for cards around to education@visitzealandia.com by 19 May 2017.  Be in to win a big copy of your card, and packs from the new set too.