Current Competitions, Projects and Challenges…
What is your favourite aquatic animal?
Enter at www.kcc.org.nz/outdoor-adventure by 3 November 2017.
——————————-
Ocean "zones" poster
Did you know that scientists think about the water in the oceans in terms of layers and areas?
Show your understanding of the "zones" – either, the layers of the ocean (sunlight, twilight, midnight, the abyss, and the trenches), OR, its areas (intertidal, neritic, oceanic, benthic) by drawing us a detailed diagram.
Email it to kcccompetitions@forestandbird.org.nz, and be in to win one of four sets of Young Ocean Explorers Explore the Gulf interactive posters!
Entries close 18 December 2017

—————————–
Ongoing:
Help develop Wild Things magazine
We want Wild Things to keep being the coolest conservation magazine around. Show us what you want to see more of (and less of) in your magazine in the future.
How to get involved:
Look at the issues of Wild Things you have at home, and/or school. Make a note of the things you most like to read, look at, and do.
Use your research to "mock up" your own page or pages of Wild Things (or if you're really keen, make a whole magazine!). You could draw and write this by hand, make a collage, or do it on the computer.
Send your mahi in via kcc@forestandbird.org.nz. You can post the original to KCC Challenges, P.O. Box 631, Wellington, 6140 too.
We'll will share your work via the KCC blog (kcc.org.nz/blog), and use your ideas to start making changes to Wild Things from Issue 136, Summer | Raumati 2017.
Previous Competitions, Projects and Challenges…
Alpine and Wetland Trading Card Game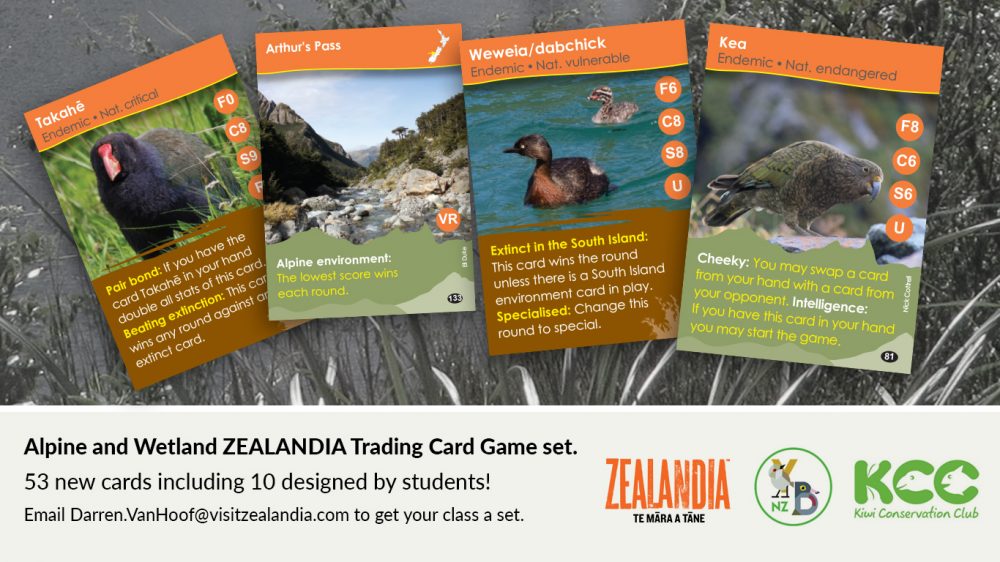 Congratulations to Mayfield Kindergarten, you win a set of ZEALANDIA's awesome wetland trading cards!
If you haven't seen the ZEALANDIA trading card game yet? Find out more at www.visitzealandia.com/education/zealandia-trading-card-game 
Wild Eyes competition – Nature Watch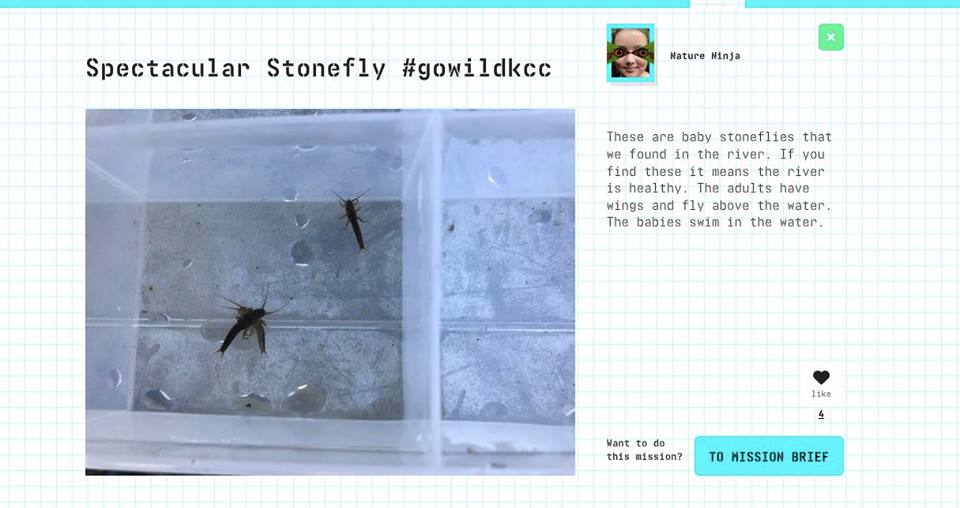 There were lots of fantastic entries to our Nature Watch mission with Wild Eyes NZ. You KCCers really know how to get out there and open your wild eyes! We are excited to announce that our winner is Sylvie with a great photo of stoneflies. What the judges really liked was how Sylvie explained her picture. Stoneflies are certainly an important part of the fresh water ecosystem!