Wet & Wild Picnic
23/09/2018
11:00 am - 2:00 pm
Mill Flat, Pine Valley End of Pine Valley Road Renwick Marlborough
Free
Bookings Essential
Anna Crowe, marlborough@kcc.org.nz, 0272559924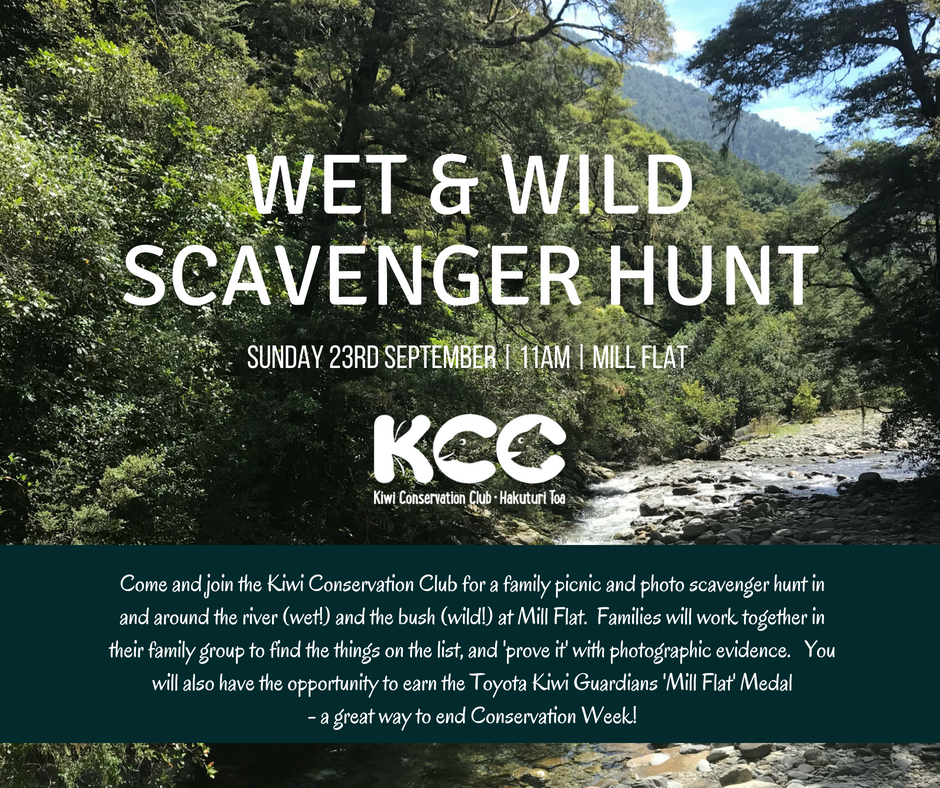 Come and join the Kiwi Conservation Club for a family picnic and photo scavenger hunt in and around the river (wet!) and the bush (wild!) at Mill Flat.  Families will work together in their family group to find the things on the list, and 'prove it' with photographic evidence.  You will also have the opportunity to earn the Toyota Kiwi Guardians 'Mill Flat' Medal, learn how to enter your finds on NatureWatch and play some conservation-themed games.
Timing:  Essential pre-event briefing at 11 am, event finishes at 2 pm.
Location:  Meet at Mill Flat, at the end of Pine Valley Road. We recommend allowing at least 45 minutes to drive from Blenheim, and another 30 minutes to walk from the carpark (just before the river crossing) to Mill Flat via the swingbridge.  PLEASE NOTE: We have just been notified that vehicles can NOT be driven through the river to Mill Flat, at present. The river is too deep and you would probably get stuck!  So please plan to walk in.
Suitable for:  All ages in family groups.  All children need to be accompanied by an adult, who is responsible for them.
Registrations/Cancellations:  Please register by clicking on this link and filling out our google form   https://goo.gl/forms/Ggssi0O97I4DET1I2.  This will mean that we can contact you with further information about the event, and let you know if the event is postponed or cancelled.
What To Bring:
A digital camera or device for your family to use, a picnic lunch, water to drink, sun hats, sunscreen, suitable footwear and clothing for being in and around the river, insect repellent, medication for any known allergies.
To join this event, please bring an adult who is responsible for you!