The Flock
12/11/2016
1:30 am - 3:30 am
Corban Arts Centre, Lowe Homestead 2 Mt Lebanon Lane Henderson Auckland
Bookings Essential
Waitakere Coordinators, waitakere@kcc.org.nz,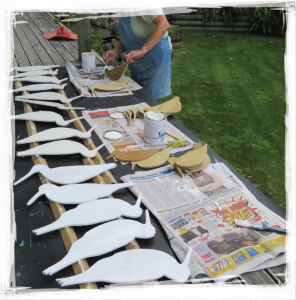 Following on from our October trip to the Miranda Shorebird Centre we will be decorating some cut-out shorebird shapes to become part of 'The Flock'. The Flock is a creative and fun project to spread the word about the threats facing our migratory shorebirds. The birds we decorate will be photographed in locations around Waitakere, and photos will be sent to you all to share with your friends and family. For more information you can check out http://www.miranda-shorebird.org.nz/theflock
We will also be holding a shared afternoon tea to end the year, and to say farewell and thank you to our wonderful Glenys, who has been a KCC Co-ordinator for Waitakere for many years. We would love as many of you as possible to join us. Please bring some food to share.
What To Bring:
Shared afternoon tea, old clothes for painting
To join this event, please bring an adult who is responsible for you!