BioBlitz Go @ ZEALANDIA – Wellington
26/02/2017
9:30 am - 5:00 pm
Karori ZEALANDIA Visitor Centre, 53 Waiapu Road, Karori Wellington Wellington
Free
Bookings Not Essential
, wellington@kcc.org.nz,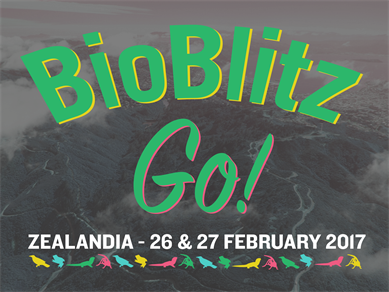 BioBlitz Go!
What is this strange phenomenon?
It's like Pokemon Go except it has a real world use! Instead of catching digital creatures, you're out looking for real living organisms. It could be plants, animals, microbes, lichens, mosses, fungi or anything else that you and your camera stumble across. This is done over a fixed period of time, usually 24 or 48 hours – so it's intense!
When: Sunday 26 February
What time: 9.30a.m. for as long as you are keen to make observations!
Where: Base camp will be at ZEALANDIA Visitor Centre, 53 Waiapu Road, Karori.
The area we will bioblitz will be inside ZEALANDIA and in the 1 km pest-free halo outside the sanctuary.
Who's it for?
Everyone! There'll be lots of experts and scientists ready to help you log and identify your specimens via the Nature Watch app.
You can bring your own device with the Nature Watch App already downloaded from the App store for free. Just search for iNaturalist (Nature Watch is the NZ arm of this global citizen science App)
The Sunday session is for families and the public to come along and get involved. Don't worry if you can't tell a hihi from a harakeke – we'll have heaps of happy helpers to guide your naturalist skills from beginner level to advanced.
Take a peak at the Wellington Event Finda link below to get a taste of what will be on offer during the day:-
http://www.eventfinda.co.nz/whatson/events/wellington/date/day/26/to-day/27
Hope to see you at this event.
The KCC Wellington Team
What To Bring:
Device with app
To join this event, please bring an adult who is responsible for you!